Your Front Entry Is A Focal Point Of Your Home...
That's Why We're Specialists In Design
ProVia Doors Look Fantastic, Provide A Lifetime Of Performance, & Have One Of The Highest ROI's Of Any Home Improvement Project.
Entry doors generally have problems that are irritating, costly and can ruin the aesthetics of your home. First, older doors are drafty. Typically, the foyer never gets a chance to warm up in the winter because of the cold air coming in (usually through the bottom). The door may also not hang correctly, therefore causing problems with the operation: hard to open/close, hard to lock, etc. The finish will also begin to look worn and aged. When the front entry looks bad, the whole house looks bad – the front entry is the first thing people look at and walk up to!
Fortunately, we have the solution to whatever your Entry Door problems may be. We take the time to help you design a high quality, drop-dead gorgeous Entry System that is simply remarkable. Here's just one of many things our customers say after the door is installed: "Dilworth did an excellent job of designing the new front door. We would have never selected the door without his explanation and design sense. It is the nicest front door in the neighborhood!" – Denise F, Naperville
While having a beautiful front entry system is very important, it's not just about aesthetics. Having a poor quality door that looks great will leave you unhappy with your investment and cost you real dollars in utilities and your time. But with so many different products out there, how can you know which to choose?
Fortunately, we have done the research, so you don't have to. For over two decades, we've scrutinized hundreds of entry doors to find the absolute best. When it comes to entry doors, we don't just look for durability. We don't just look for energy efficiency. We don't just look for aesthetics. We look for all of those… and then some.
In our 20+ years of door installation, we've found one—and only one—entry door that consistently provides the beauty, security, durability and efficiency that you need: ProVia. ProVia is committed to making doors individually customized for homeowners to the highest standards of durability, security and energy efficiency in the residential market. A clear difference so defining that it has established a new category of professional-class doors, a better alternative to consumer-grade doors.
Take a look:
1. Culture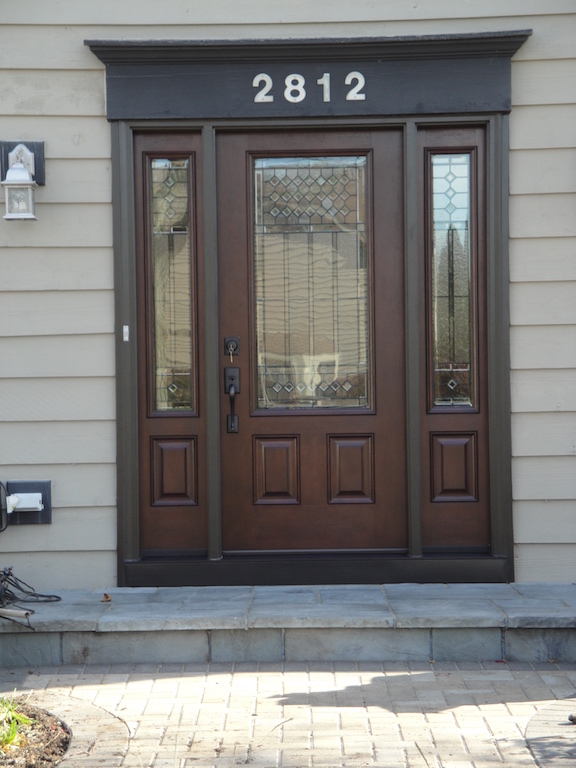 ProVia has been building a reputation for quality since the company was founded over 30 years ago near Sugarcreek, Ohio, in the heart of Amish country; an area well-known for quality and craftsmanship. While old-world craftsmanship is very much a part of their culture, it's supported by modern design techniques and state-of-the-art manufacturing processes. They've created the perfect balance between traditional quality and modern technology.
2. Maximum Security & Durability
Most entry doors are built so the deadbolt sits inside the wood of the door jamb. If enough pressure is applied, it will break the wood, rendering the deadbolt useless.
To prevent this, ProVia doors are manufactured & installed with a special 20-gauge steel security plate within the jamb. Since the deadbolt is secured by steel instead of wood, ProVia's exterior doors are MUCH more secure… and create the ultimate barrier between intruders and your home.
To test the durability of their entry doors, ProVia ran multiple "strength" experiments.
For the first test, the company hit one of their doors with a 40-pound police battering ram from 12 feet away. The result? The door didn't budge an inch.
The second test involved slamming one of their doors shut as hard as possible until it affected performance. It took slamming the door shut a half-million times to affect the door's integrity and appearance. That's tough.
ProVia doors are so durable that they are backed by a Lifetime Transferable Warranty as well as our own Dilworth Lifetime Installation Warranty. If ANY problem occurs with your door—5, 10, or 50 years from now—you're fully protected. Period.
3. Energy Efficiency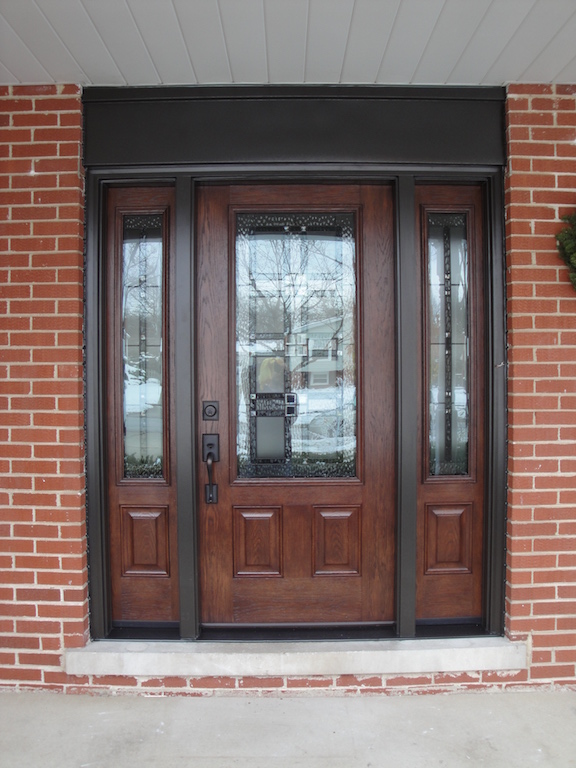 ProVia engineers their doors to keep the elements at bay and your home comfortable all year long. ProVia doors are filled with polyurethane foam insulation and made with the best weather seals on the market. This helps keep your door airtight, your home comfortable and your energy bills up to 15% lower. (Click on our Door Energy Efficiency page to see some of the components of an efficient door)
4. Incredible Return On Investment
ProVia entry doors come in fiberglass or steel—two of the best home improvement projects in terms of return on investment.
According to Remodeling magazine's 2015 "Cost vs. Value" report, steel entry-door replacement provides the highest return on investment of any remodeling project with an astounding 86.3% cost recouped in the East North Central region. Fiberglass entry doors are also in the top 10 home improvement projects, providing an extraordinary 69.4% cost recouped.
When you consider that ProVia makes the best steel and fiberglass doors on the market, with the best components, your return on investment can be even higher than going with the same material from another brand. Simply put, you won't find many home-improvement projects with the same spectacular value.
5. Immaculate Installation
The best, most energy-efficient door in the world won't work if it is improperly installed. We've provided exterior door installation for Naperville and surrounding areas for over 20 years. In that time, we've refined our installation process and techniques to ensure you the absolute highest quality and trouble free operation.
For example, we are the only contractor in the area that solves the back-pitching problems of your door sills. Due to this common cause of door rot along the bottom, it also causes water to penetrate the house – where you don't want it to go! We solve the problem by pitching the water away from the house. It's just one of the dozens of special installation techniques we provide to ensure you the best door installation in Naperville, Darien and the surrounding areas.
Let's Get Started
Contact us today to schedule a free, no-obligation consultation. We would enjoy discussing the right solution for your situation.